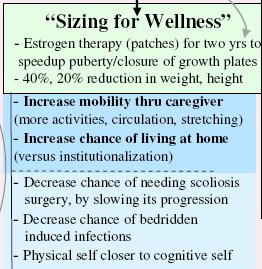 There are questions concerning estrogen therapy, how it effects bone growth and other issues known and unknown. The idea of "increase mobility thru caregiver" is a comment on the caregiver, not a reason to destroy a child's growth. "Increase chance of living at home" is 100% under the parent's control, again, it is not a reason to manipulate and mangle the body of a child.
To what extent does one go to decrease the chance of things that may or may not happen? It is not a given that she will need scoliosis surgery or have bedridden induced infections. Remember, she has NO diagnosis, there is NO history of anyone going through what she will. Bedridden induced infections can easily be mitigated by effective caretaking.
"Physical self closer to cognitive self" is the most outrageous statement. First, the cognitive self cannot be measured since communication may be limited, that is an unknown. Second, there is the claim of an "infant level mentality" so this means that her "physical self" should be closer to an infant? That would necessitate more surgery to "turn back the clock" and remove the physical improvements and growth she has experienced.